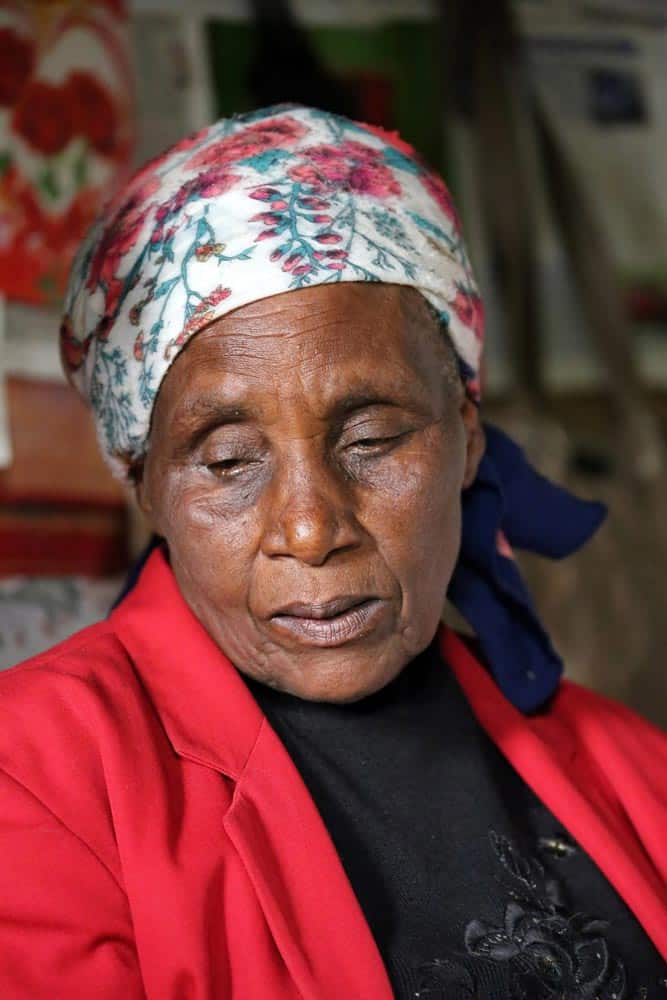 Helen Wambui Kariuki is talkative and spirited, feisty in a way that matches the bold red skirt and jacket clothing her small frame. It is hard to believe her when she says she was born in 1937, but she says she is young because of Jesus".
When I ask her about her life, she tells me the details of her history. As a young woman, she had twin boys who passed away. She then had another boy who died after two years. Her first husband died, as well, but she was left with twin girls who have survived to this day. After marrying again, she had three more girls, and all of her daughters are now alive. She tells me with some satisfaction that four of them are married, living away, and doing well. But the fifth daughter is not married and is out looking for work. Helen doesn't specify where this daughter is, but she left behind three children for Helen to take care of. She has raised these three girls since they were small; now the first is out of school, the second has just left school after Form 1 because of lack of funds, and the third is finishing primary school. The challenge Helen faces is to somehow find a way to keep the younger girls in school.
Helen has concerns about her own health – she is sick with typhoid or high blood pressure, she isn't sure which – because she is weak and struggles to provide food for her granddaughters. But she is waiting for the Lord, trusting Him to provide for her family in the right time. She raises her arms in gratitude for the solar lights John and Joel have strung up in her home because she won't have to buy kerosene and her granddaughters will be able to study at night. But we're aware that the bigger gift would be to provide the opportunity for them to study at all. We hope the Lord's timing is soon.