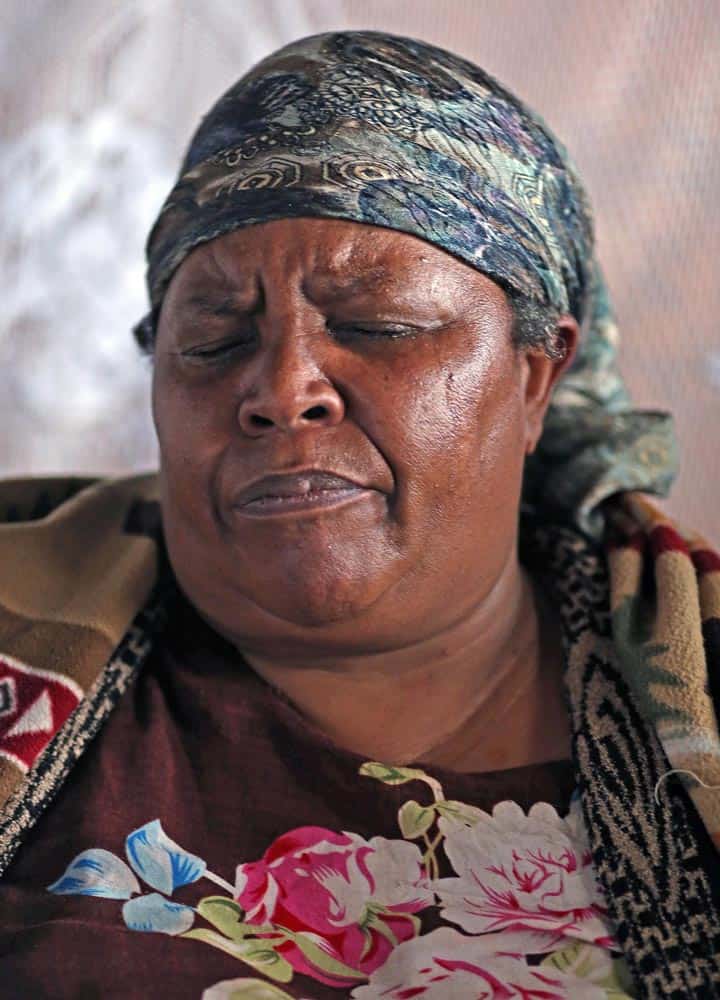 The most difficult visit we experience is to a widow who lives just outside of Kijabe Mission Station rather than in Kijabe Town. Nancy Wairimu lives in a state of terrible need. A year ago, her husband died and the money left to her by supportive relatives and friends was stolen. She has two sons and a daughter, but none has been able to find work. When her daughter went searching for work, she left her six children for Nancy to take care of. Two more grandchildren from one of her sons followed.
Nancy usually grows cabbage, carrots, and spinach, but she can't work these days because her health is failing. She has kidney trouble, so she is bloated and weak, and cataracts have left her almost completely blind. Food for the family is scarce; very recently they went a whole day without a meal. They also have trouble accessing a steady supply of water, so they need either a well or a tank with which to collect rain. They also badly need a new cho. Finally, Nancy tells us, the home is overcrowded, with all of them sleeping in just one bedroom.
We are overwhelmed by the troubles this family is facing and by our own inability to address most of them. Still, we go ahead and provide the solar lights, which Nancy is glad for. She says she won't have to spend the 20 shillings per day required to keep their single lamp burning. The children will be able to do their homework in the evenings, their phone will be charged for free, and there will be much more light in the house for everyone. Before we leave, all of us – Nancy, her grandchildren, and the members of our team – join hands and pray. I voice our helplessness in the face of this family's situation and ask for God to provide for them – to give them peace in their hearts as well as the material provisions they need to survive. We leave the house and walk through the yard, and I see 16 year-old Winnie waiting for us. I stop before her and hear her urgent plea: "We need a toilet." As I embrace her and turn to go, I know that I will not be able to ignore this request without betraying her somehow.
Before Ray and I leave Kenya, our team returns to this household to drop off a supply of vegetables, flour, and other staples. We learn during this second visit that Nancy was awake all night praying for food, so this gift seems particularly heaven-directed, heaven-sent. Later, when we are back in Canada, we send money for a new cho (toilet), which is built immediately. We trust that others will learn of this family's needs and respond as well.